...in that order.
Worked striking tonight for the first time in a good while. My knee has been healing pretty quickly, and I felt good enough to drill on it. We worked the slip-step-turn-
murder
combo on both sides, which for a lefty is especially nasty, seeing as how our natural rear-kicks land on the liver. I worked with Ollie who often has more heart than brains, but he was in the zone to train tonight, and as such we both learned. Sparring afterwards was more of the same. I am reacting better to getting hit, and in following the rule of "you get what you give" as far as sparring force, through some of the hardest punches I ever have in training. Being 5'10 180, I'm shorter than most people my weight; so here is a free lesson: Don't let me get in close. In the pocket I hit as hard as anyone I know, and when you throw hard then move straight back, you're likely going to get swarmed. Also, don't tell me no body shots then throw to my gut as soon as you're getting outclassed. Fuckin' tacky. But people act weird when they're getting hit. As soon as the round timer beeps, no ill will. That's a hard and fast rule.
Then, after gi'ing up, Benn lined us up against the wall.
He hasn't done this since Kevin left, so I knew something was up.
And then he called me out, and presented me with four beautiful tape strips that mean so much more than they should.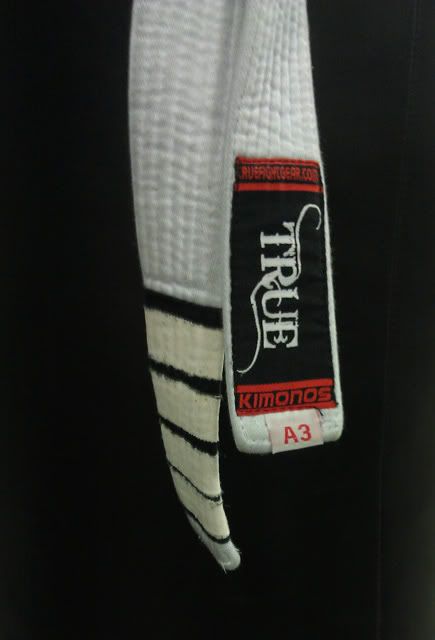 And then went on a short speech about how I'd earned it. After conversing with Brendan about how I'd "no question" be a blue belt if belts were earned through no-gi, he put me in the center of the mat. One minute rounds with everyone in class, no breaks. After about the third roll of guys knowing they could go all-out then rest, I was pretty beat. But I didn't get tapped, and it was definitely a memory. I recall going for a beat-tired kneebar on Ollie (no guilt, he fancies himself a leglocker) and tapping some poor soul to an ezekiel after frustration of him (wearing just shorts) gripping my gi one too many times, rolling with Brendan and Benn. I'm not sure why I was so out of it today, but I mentioned it before we ever started drilling for jiujitsu.
But the high point of my night was Ollie telling me after class how much I'd helped him, and helped teach. His normal goofy smile turned oddly serious, and his playful eyes suddenly filled with thanks.
That is probably the lasting memory from tonight. A justification that the time I have spent teaching isn't wasted, and isn't ignored.
It was a good feeling. And I hope to re-create it.